Whether your granddaughter is filling a literal hope chest or just learning how to be a homemaker right now, give her "hope chest" a boost this Christmas!
Here's  a gift guide for any age and any budget. 

Disclosure: This post contains affiliate links. This means that I could earn a commission if you purchase something (or perform some other desired action) after clicking through one of them. This doesn't cost you any more or affect you in any way.
#1 A Family Heirloom or Something of Yours That You No Longer Need
Almost anything of yours (if you've had it a while) will be a family heirloom to her!
Of you and grandpa ~ of your lives together. Or make a scrapbook.
Never made a scrapbook before? Try these resources:
Or of yourself from babyhood to your marriage.
Photo Books Sources:
#3 A Serving Dish

Or other serving piece that fits her style and will also fit in with most any dinnerware she'll later own. Suggestions: bowls, platters, cake plates, pitchers,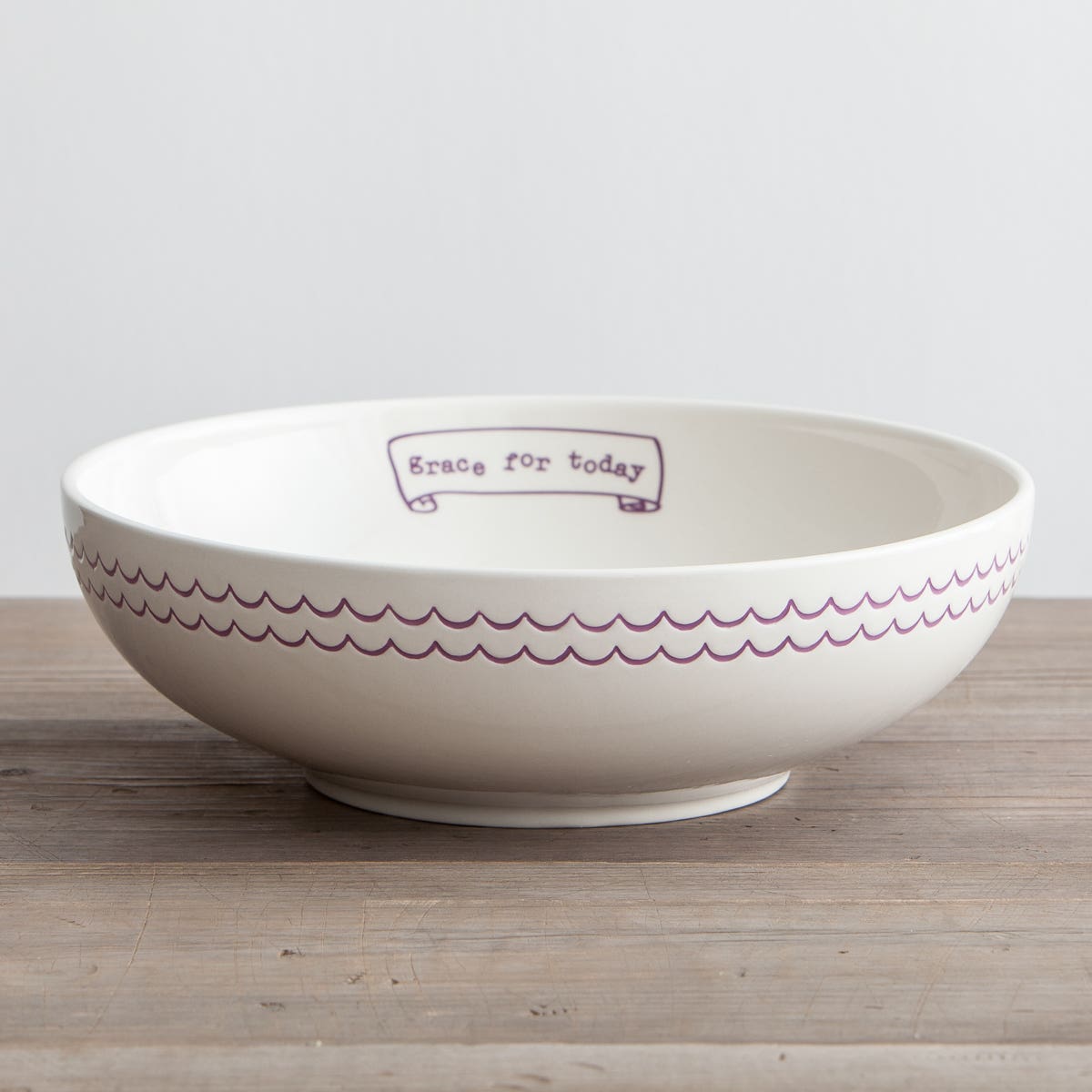 Daily Grace - Grace for Today - Serving Bowl
from: DaySpring Cards Inc
#4 Handmade Item, Made by You

Big ideas:
A quilt
A hope chest
A crocheted tablecloth
Medium Ideas:
A doily
Pillow covers
Little Ideas:
A potholder
Napkins
More ideas: Little Handmade Gifts for the Kitchen 42 Ideas
#5 Offer to Teach a Skill
Or give her a certain number of lessons. Or weekly lessons.
#6 Offer to Help With a Project
If she has big, overwhelming projects in mind, pitch in! Help her make a flower bed, make her first quilt, clean newly inherited furniture, set up a mini sewing studio, make her first apple butter ~ what ever she has going! 
#7 Offer to Mentor for a Specified Time
Spend time together once a week or once a month sharing life experiences and learning new skills.
#8 Fabrics (or Old Clothing) Meaningful to You to Put In a Quilt
If you're really ambitious, make her a little scrapbook of the fabrics and their stories!
#9 Scrapbook of Family Members She Doesn't Know With Anecdotes About Them.
Or a photo album or photo book. I'm thinking deceased relatives, here, because you could just introduce her to the living ones!
#10 Extra Family Photos
Of you, her mom or dad, aunts and uncles, your parents, etc, carefully selected and protected.
#11 A Gift Card

Not a crafter, do-it-yourself-er, or keeper of photos? 😉 This might be a good option for you!
Give her a gift card to buy  things to put in her hope chest, books or materials to make items for her hope chest, or books to help her learn homemaking skills.
Some suggestions:
Mighty Nest (non-toxic and healthier products, like kitchen stuff and tableware)
Craftsy (classes)
Etsy (vintage, handmade stuff, supplies)
#12 A Shopping Trip

 Of her choice or yours. It might be to: 
Buy supplies for a project
Learn how to shop
Buy things for her hope chest
Learn about products
How will you contribute to your granddaughter's hope chest this Christmas?
You might also like:
13 Ways to Boost Your Niece's Hope Chest This Christmas
12 Ways to Boost Your Daughter's Hope Chest (for Dads)
13 Ways to Boost Your Granddaughter's Hope Chest (for Grandpas)
Linked up at: